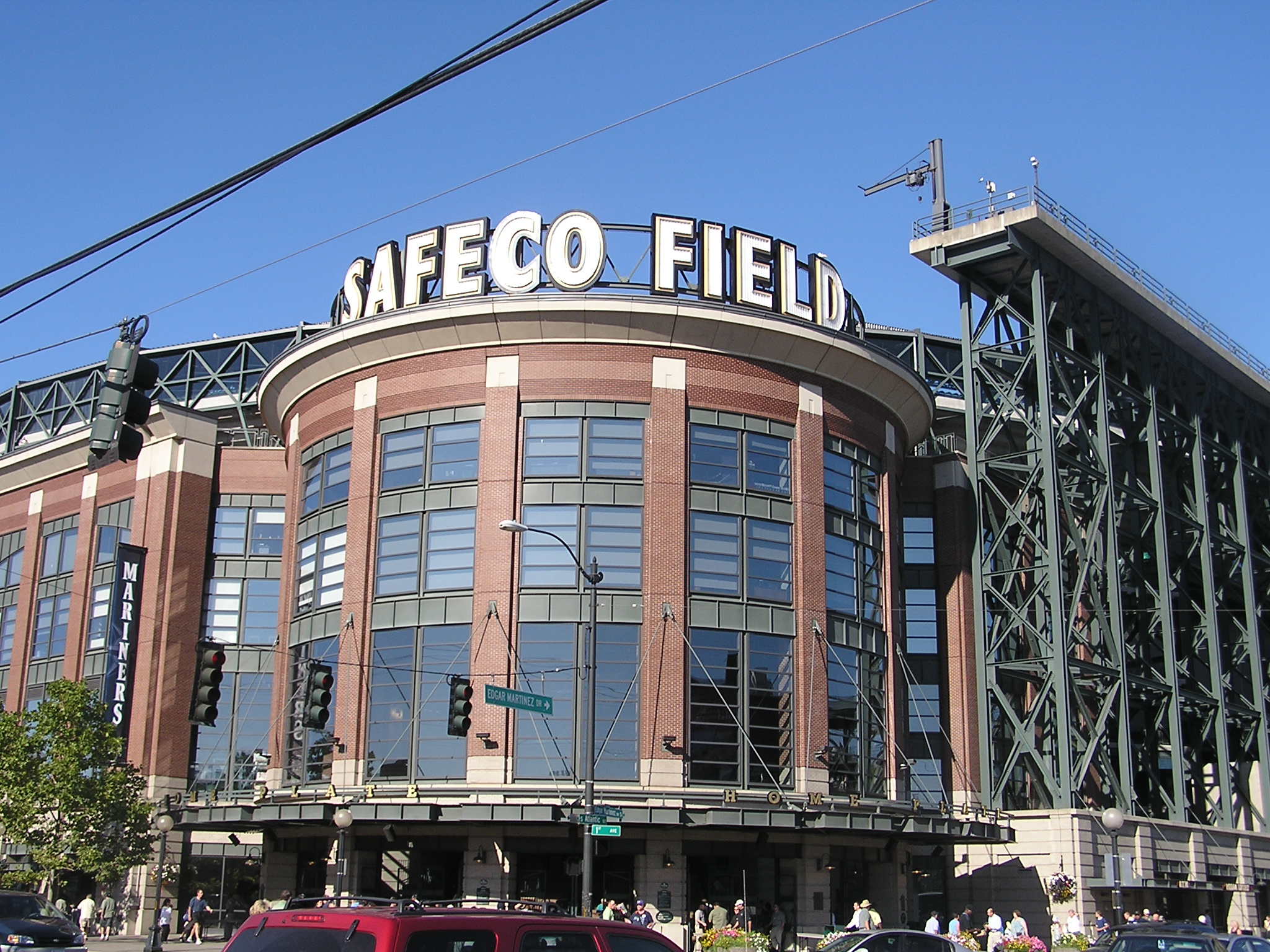 TEAM ::: SEATTLE MARINERS
LOCATION ::: SEATTLE, WASHINGTON
MY FIRST VISIT ::: AUGUST 14, 2007
OPPONENT ::: MINNESOTA TWINS
MLB STADIUM RANK ::: 7 OUT OF 40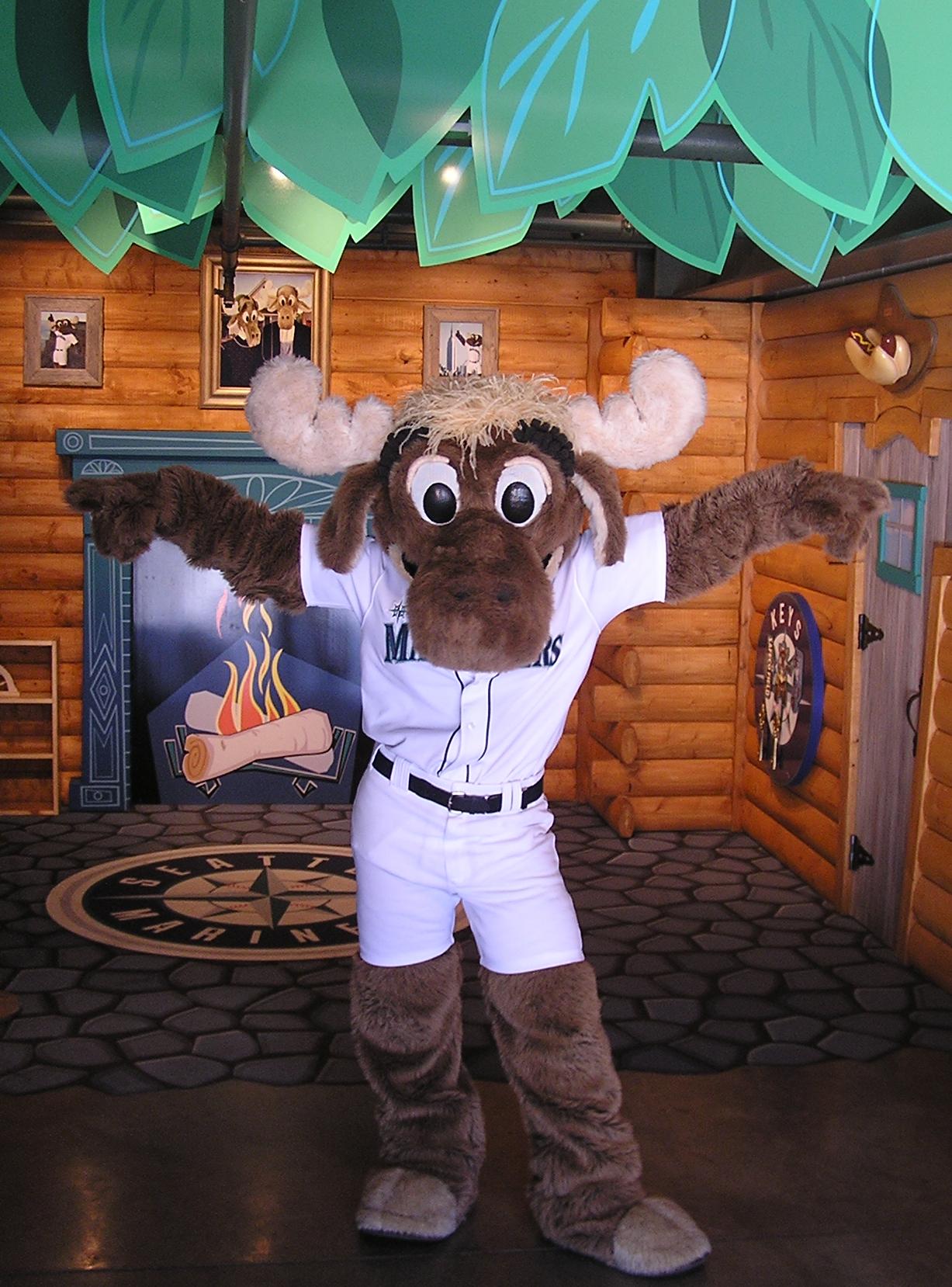 RATINGS
BALLFIELD ::: A+
SCOREBOARD ::: B
FOOD ::: A
FACILITIES ::: A-
MASCOT ::: A+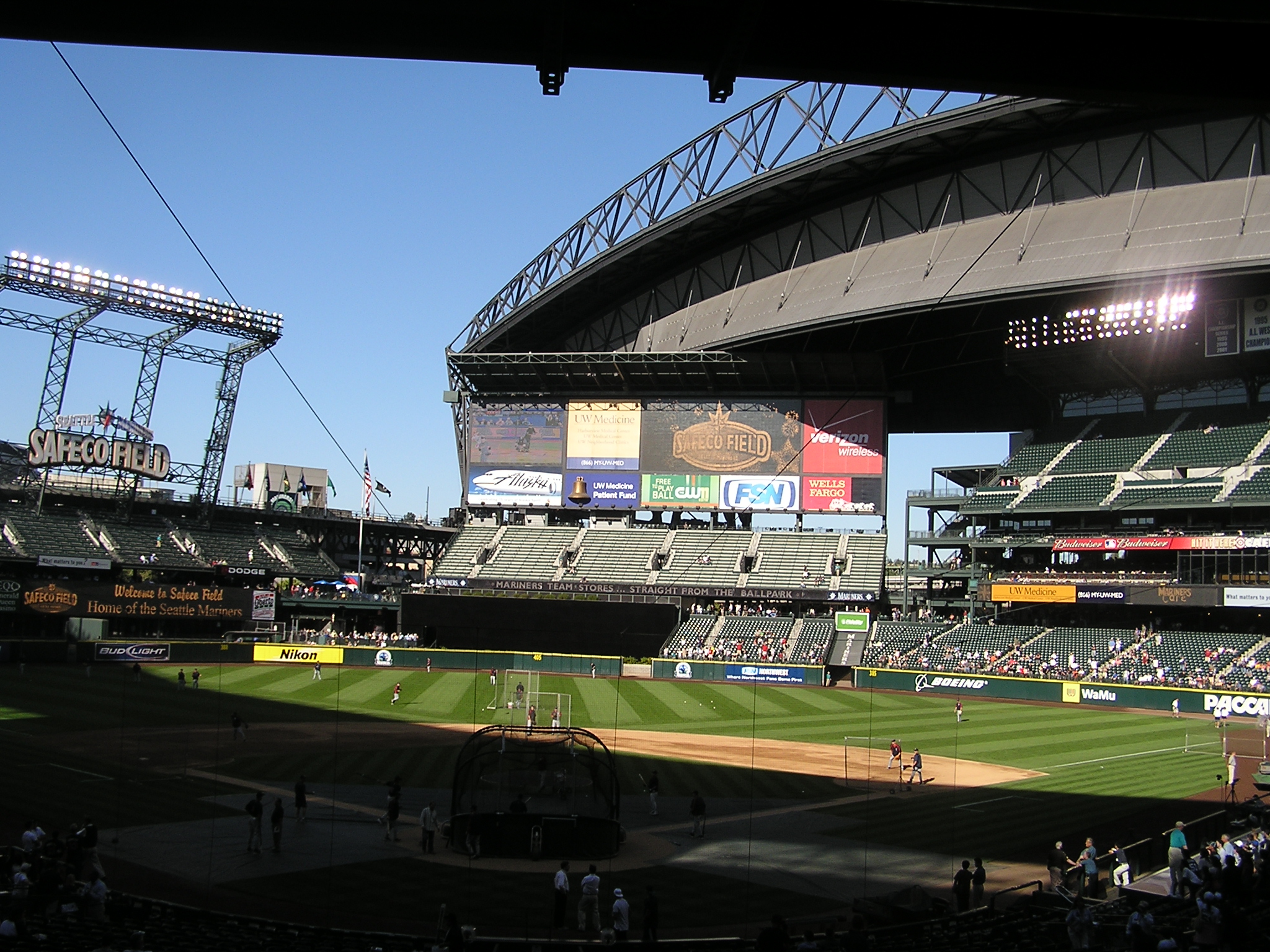 MY TAKE ON THE PARK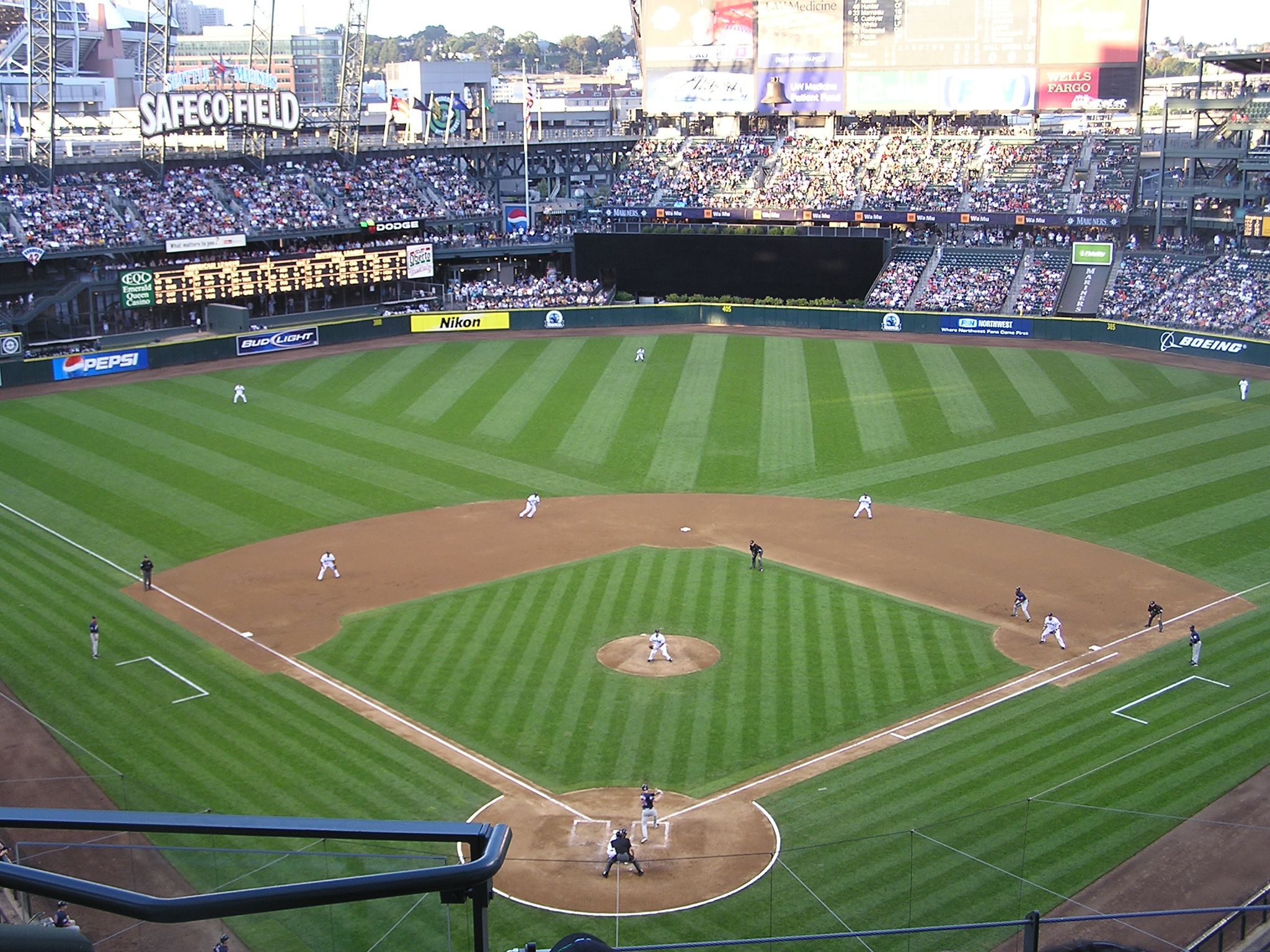 SEATTLE IS ONE OF THOSE CITIES THAT ALMOST DOESN'T FEEL LIKE A CITY.
THERE ARE EVERGREEN TREES EVERYWHERE IN THIS STATE AND IN THE CITY OF SEATTLE THAT IS NO EXCEPTION. THROUGH THE EVERGREENS IS A BEAUTIFUL NEW
BALLPARK WHICH REPLACED A PLACE I HAVE NEVER BEEN. BUT AFTER A VISIT TO SEATTLE I WILL NEVER UNDERSTAND HOW BASEBALL INDOORS WAS PERMITTED.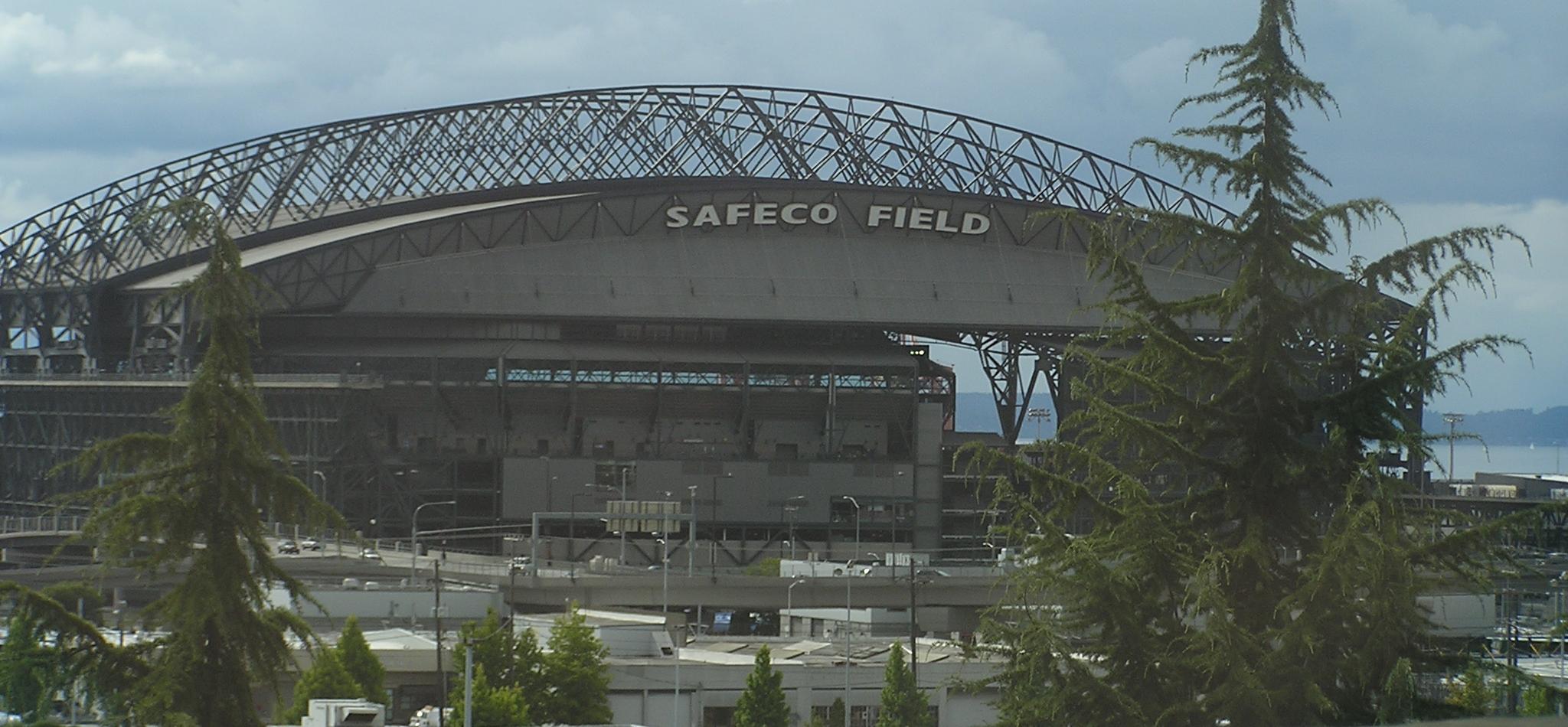 SAFECO FIELD IS LOCATED ABOUT 1/2 MILE OFF OF THE INTERSTATE, IF SEEING THE BALLPARK DOESN'T CLUE YOU IN THAT YOU ARE CLOSE TO THE PARK, THE SOUND OF THE TRAIN WHISTLES WILL LET YOU KNOW YOU HAVE ARRIVED.THE AREA SOUTH OF THE PARK LOOKS VERY INDUSTRIAL AS OPPOSED TO THE MORE LIVELY
NORTH END WHERE THE SEAHAWKS STADIUM IS. $20 WILL GET YOU PARKING ACROSS THE STREET FROM THE PARK BUT IF YOU ARE WILLING TO WALK, AND CONSIDERING ALL THAT IS GOING ON I THINK THAT ISN'T SUCH A PROBLEM, PARKING FALLS TO BETWEEN $10 - $12.
UNLIKE MOST DOMED STADIUMS, THIS IS ONE YOU WANT TO GO INTO.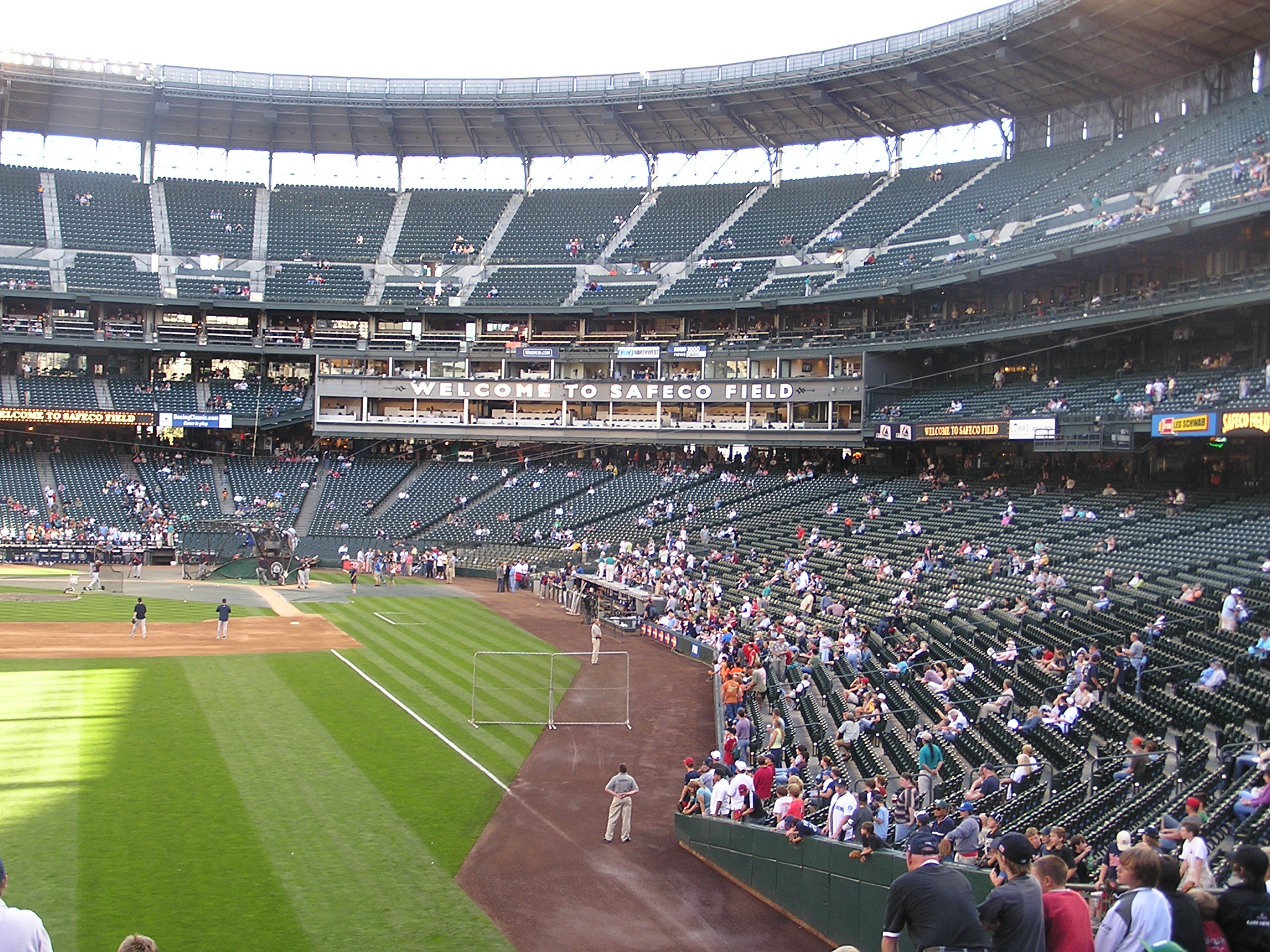 THE MAIN ENTRANCE HAS A LONG STAIRCASE, TAKE A LOOK UP TO THE
CHANDELIER AND YOU WILL SEE ONE MADE OF BASEBALL BATS, KIND OF COOL.
UP TO THE CONCOURSE AREA AND TAKE YOUR FIRST VIEW OF THE FIELD. NOTHING BUT PURE EXCITEMENT WILL FILL YOUR BODY, REGARDLESS OF WHERE YOU WILL BE SITTING, THIS WILL BE A GOOD NIGHT.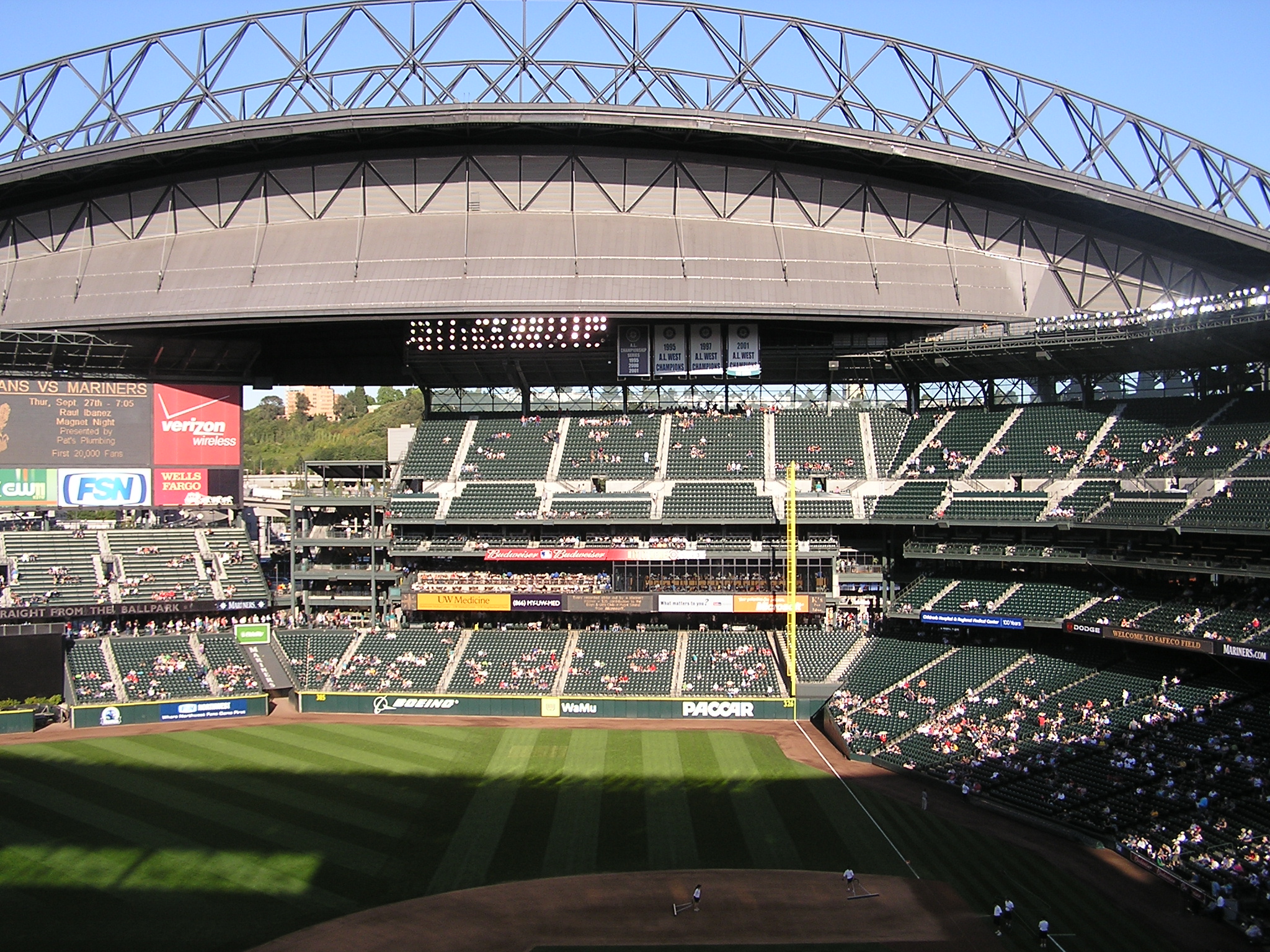 THE PARK ITSELF IS SPECTACULAR, FROM THE DARK GREEN SEATS GENEROUSLY SPACED TO THE PERFECTLY MANICURED FIELD, TO THE "UN"DOME. IF IT IS A SUNNY DAY, IT IS POSSIBLE TO NOT EVEN KNOW THIS IS COULD BE A DOMED
STADIUM. IF YOU REMEMBER, STICK AROUND THE PARK FOR ABOUT 20 MINUTES AFTER THE GAME TO WATCH TO ROOF CLOSE, I MISSED IT BUT WITNESSED IT FROM OUTSIDE. AFTER DEALING WITH A FEW OF THE USHERS, I BET THEY WOULD HAVE LET ME BACK IN TO WATCH.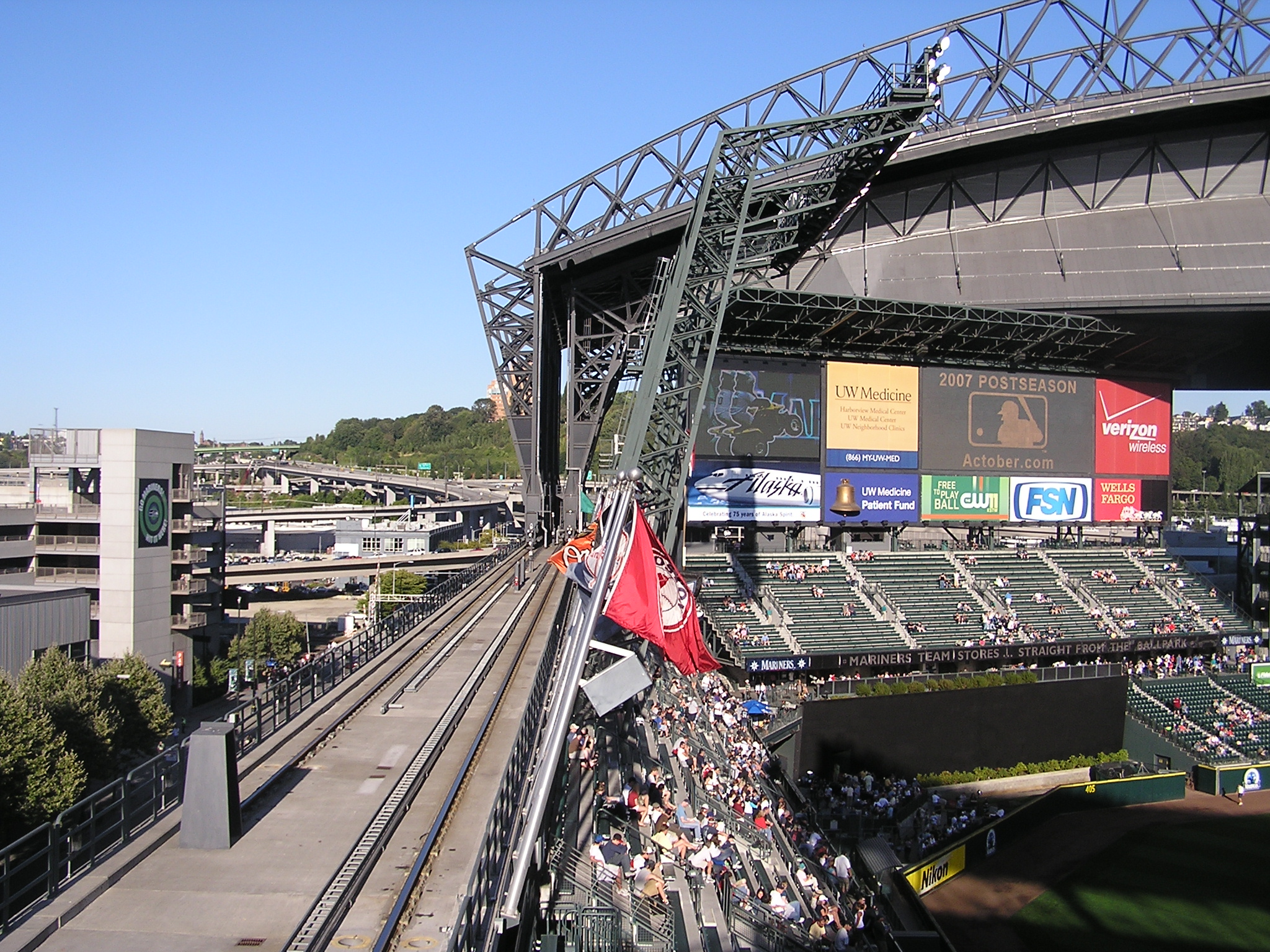 SEATTLE'S STAFF IS VERY WELL SCHOOLED IN THE ART OF BASEBALL CUSTOMER
SERVICE. FREE REIGN IS GIVEN TO ALL, I WAS ABLE TO STAND NEXT TO THE DUGOUT AND FREELY WALK TO THE FAR REACHES OF THE OUTFIELD WITH ONLY A "WELCOME TO SAFECO" FROM ALL I ENCOUNTERED. I FOUND THAT WHEN YOU DON'T HAVE TO SNEAK YOUR WAY DOWN TO THE FIELD PRIOR TO THE GAME, YOU TEND TO LEAVE WHEN THE PLAYERS ALL LEAVE THE FIELD.
SHEA STADIUM DOESN'T AGREE
WITH MY THOUGHTS ON THAT.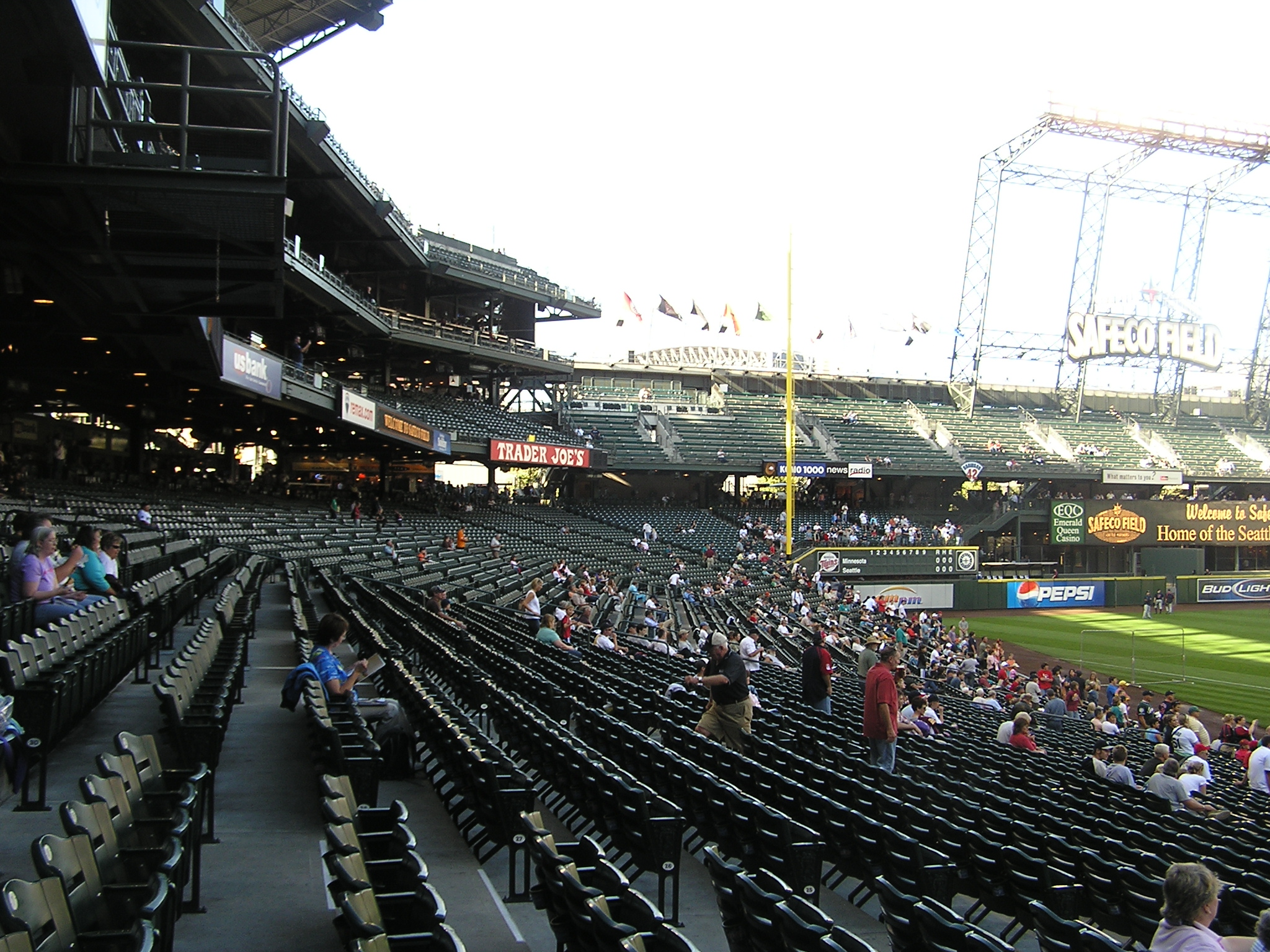 AS FOR THE GAME PERSPECTIVE, THE GAME IS HANDLED WELL HERE. OK, THE SCOREBOARD IS A LITTLE SLOW ON THE BALL STRIKE UPDATES BUT THE SCOREBOARD LOOKS REAL GOOD. I'M A BIG FAN OF LOGOS ON THE SCOREBOARD SO IN MY OPINION, SEATTLE'S LINE BOARD IS THE VERY BEST IN BASEBALL.
SITTING AROUND CERTAIN TYPES OF FANS WON'T HURT OR HELP MANY ASPECTS OF THE BALLPARK, BUT IF YOU SIT WITH A GOOD GROUP OF FANS, YOUR MEMORIES ARE
ALWAYS THAT MUCH BETTER. WELL, I WAS VERY FORTUNATE ON MY VISIT TO SEATTLE, I HAD A GROUP THAT KNEW BASEBALL, SEATTLE, AND A GUY WHO KNEW A THING OR TWO ABOUT BALLPARKS. WHERE I WAS SEATED JUST MADE MY TRIP TO SEATTLE SO MUCH MORE ENJOYABLE.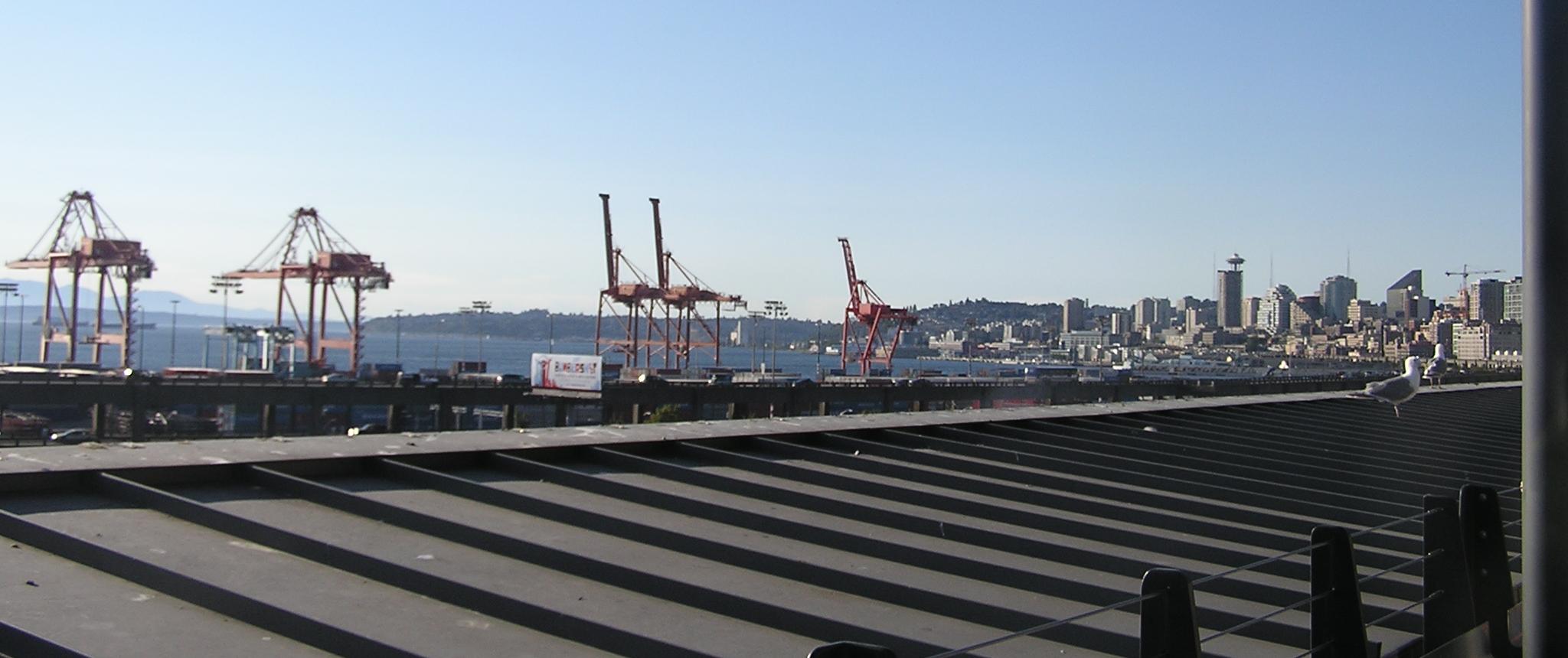 A TRIP TO SEATTLE IS ONE THAT AFTER I WAS THERE, I COULD NOT BELIEVE I DIDN'T KNOW MORE ABOUT THIS CITY. THE PEOPLE, THE SCENERY, THE COFFEE ALL ARE EXCELLENT.
A TRIP TO SAFECO IS JUST THAT GOOD AS WELL, FROM THE UPPER DECK, GO OUT TO THE CONCESSION AREA, THE VIEWS ARE AMAZING.
WHETHER YOU WANT TO SEE A SPACE NEEDLE FROM A DISTANCE OR THE PUGET SOUND, ALL CAN BE SEEN. EVEN TAKING A LOOK OVER TO THE SEAHAWKS STADIUM YOU CAN SEE HOW EVERYTHING WAS THOUGHT OF WHEN PUTTING THIS COMPLEX
TOGETHER.
WHILE AT THE CONCESSIONS, A WIDE ARRAY OF FOOD IS AVAILABLE,
ALL AT WEST COAST PRICES BY THE WAY WHICH I FOUND TO BE $1 TO $2 MORE THAN THE EAST. WHAT I FOUND VERY SURPRISING HOWEVER WERE THE SOUVENIRS.
I DON'T BUY A LOT OF SOUVENIRS BUT WHAT I SAW HERE LOOKED CHEAPER THAN ANY OTHER PARK I'VE VISITED.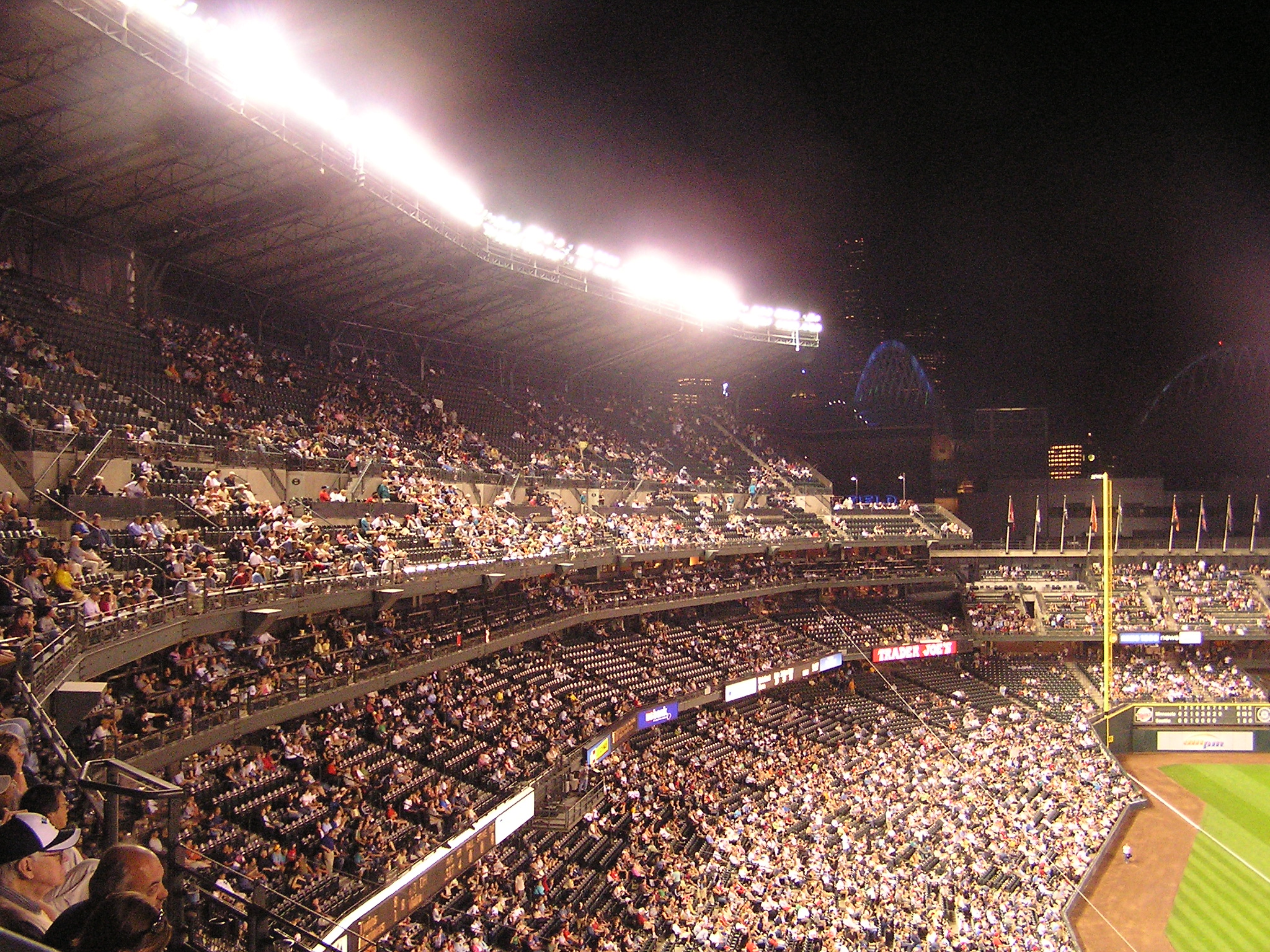 ONE OTHER THING ABOUT SAFECO. THE MARINER MOOSE. YOU MUST VISIT HIS LITTLE HUT OUT IN RIGHT CENTER FIELD NEAR THE KIDS SECTION, JUST MORE PROOF OF HOW SEATTLE HAS IT ALL FIGURED OUT.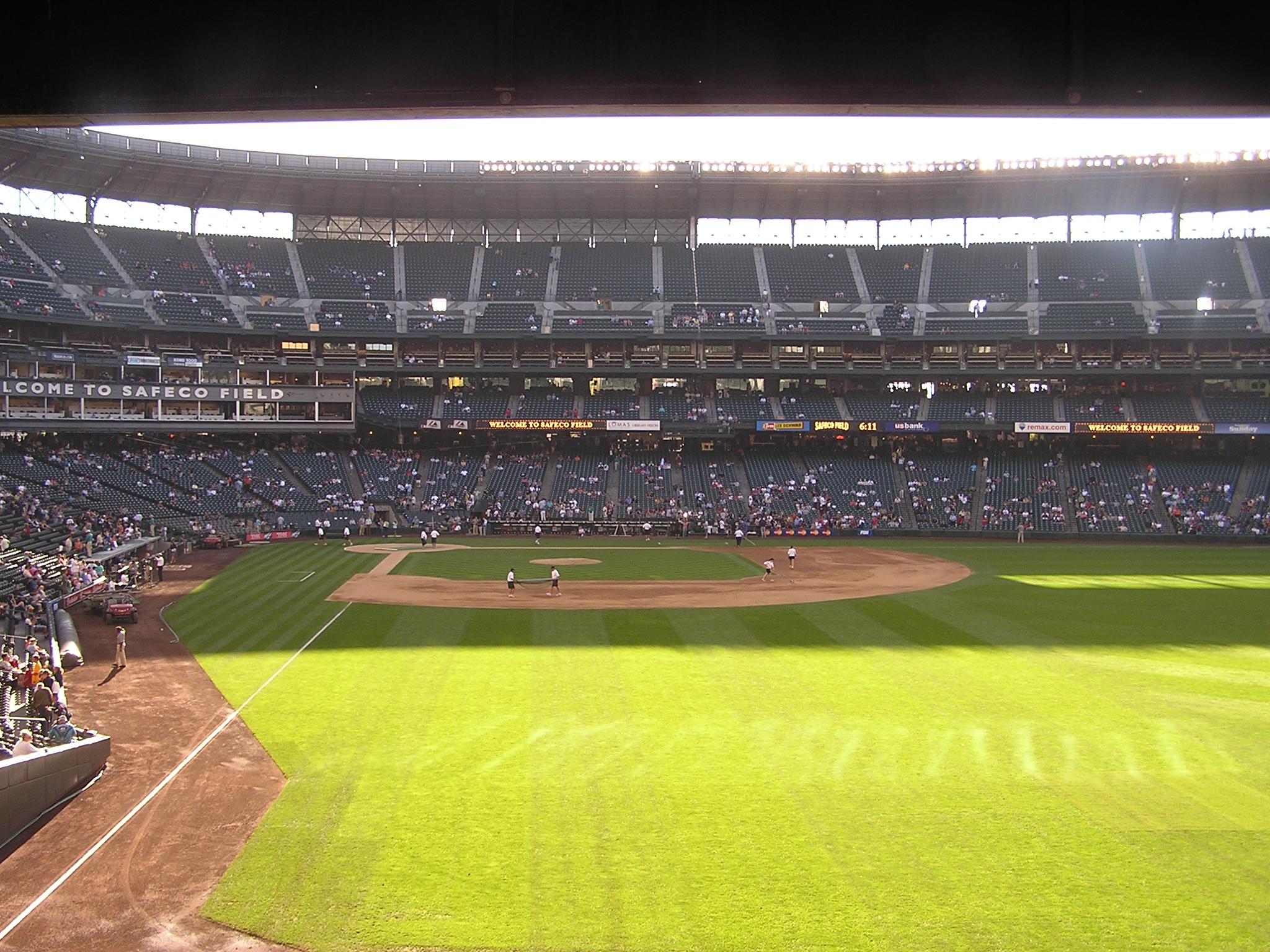 I CANNOT SAY ENOUGH GOOD THINGS ABOUT THIS PARK, SO OF THE 32 PARKS I HAVE VISITED I RATE SAFECO 6TH BEHIND DODGER STADIUM, SAFECO CAN'T MATCH
THE PARKING AND DODGER'S SCENERY IS FROM YOUR SEAT. OVERALL I RATE IT AHEAD OF THE OLD BUSCH STADIUM, BUT IF LOOKING AT CURRENT PARKS ONLY, I SAY IT IS
AHEAD OF PNC PARK DUE TO THE FLOW OF THIS PARK.

WHILE VISITING SEATTLE, TRY ONE OF THOSE COFFEE HUTS YOU FIND SPREAD OUT AROUND THE CITY, THE BEST COFFEE IN TOWN IS FOUND THERE. ALSO, A TRIP TO MOUNT RAINIER, JUST BECAUSE YOU CAN SEE IT SO YOU'LL WANT TO SEE IT UP
CLOSE.
HOWEVER, THE BEST TRIP IS ONE TO MOUNT ST HELENS. A TOTAL TRIP FROM SEATTLE MIGHT TAKE ABOUT 7 HOURS BUT IT IS COMPLETELY WORTH IT. ON A BEAUTIFUL SUNNY DAY THE POWER OF NATURE WILL REALLY IT YOU, TWO HOURS OF LUSH GREEN FOREST AND THEN THE BARE HILLS DUE TO THE VOLCANO.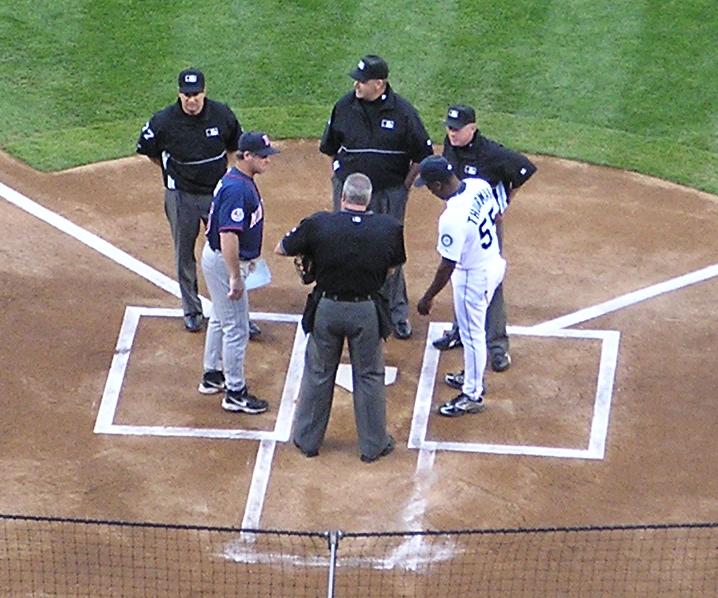 THE LINE UPS
MINNESOTA TWINS MANAGER :::
35 Ron Gardenhire
SEATTLE MARINERS MANAGER :::
8 John McLaren
MINNESOTA TWINS
25 Alexi Casilla 2b
18 Jason Bartlett ss
7 Joe Mauer c
48 Torii Hunter cf
33 Justin Morneau 1b
5 Michael Cuddyer rf
24 Rondell White lf
55 Mike Redmond dh
8 Nick Punto 3b
21 Matt Garza p / WP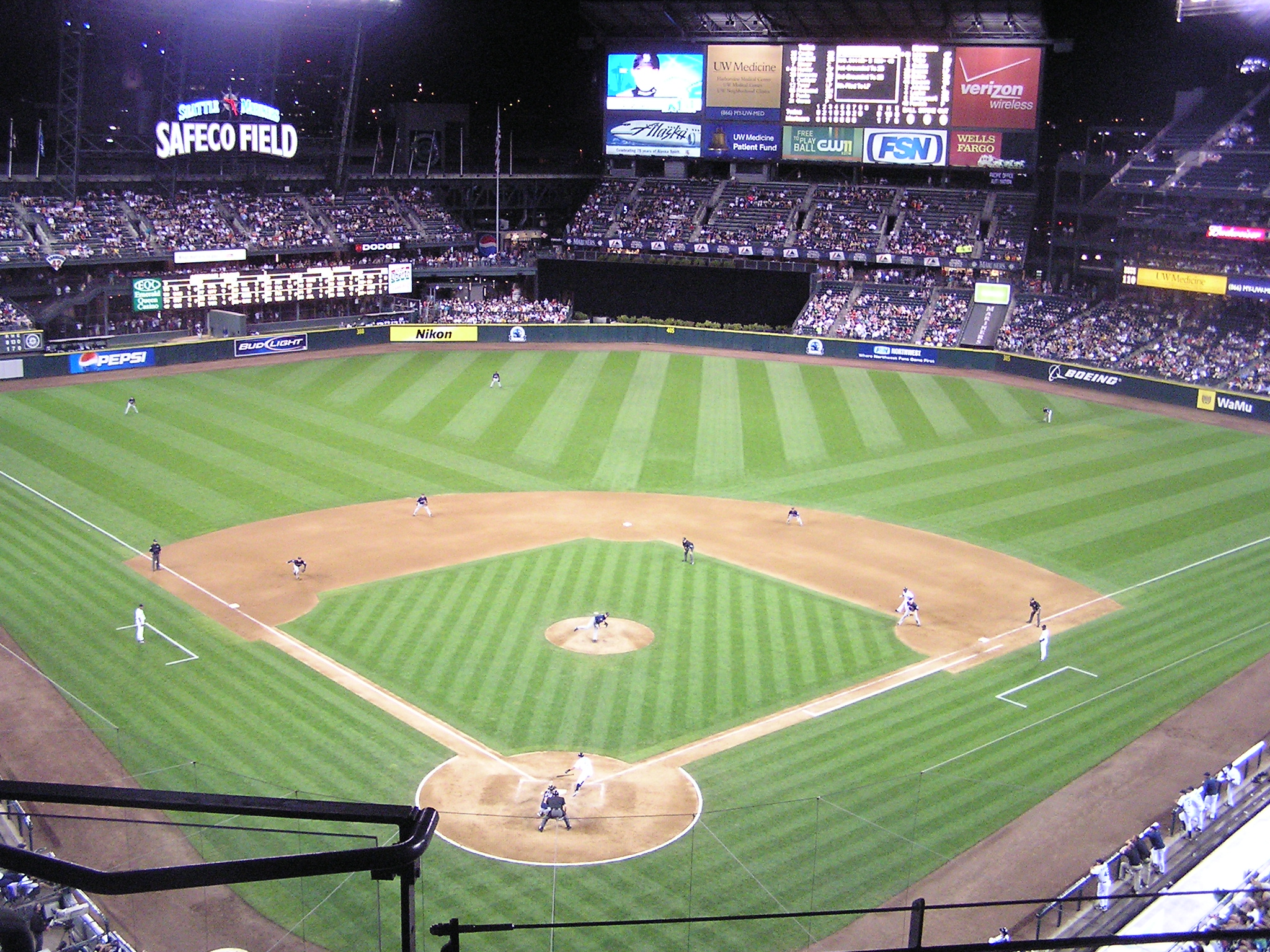 SEATTLE MARINERS
51 Ichiro Suzuki cf
3 Jose Vidro dh
6 Jose Guillen rf
28 Raul Ibanez lf
29 Adrian Beltre 3b
44 Richie Sexson 1b
2 Kenji Johjima c
4 Jose Lopez 2b
5 Yuniesky Betancour ss
26 Horacio Ramirez p / LP
TWINS 021 030 203 11 18 0
MARINERS 001 000 020 3 9 1
TIME ::: 2:46
ATTENDANCE ::: 33,729
WEATHER ::: 78 CLEAR
SEND ME AN E-MAIL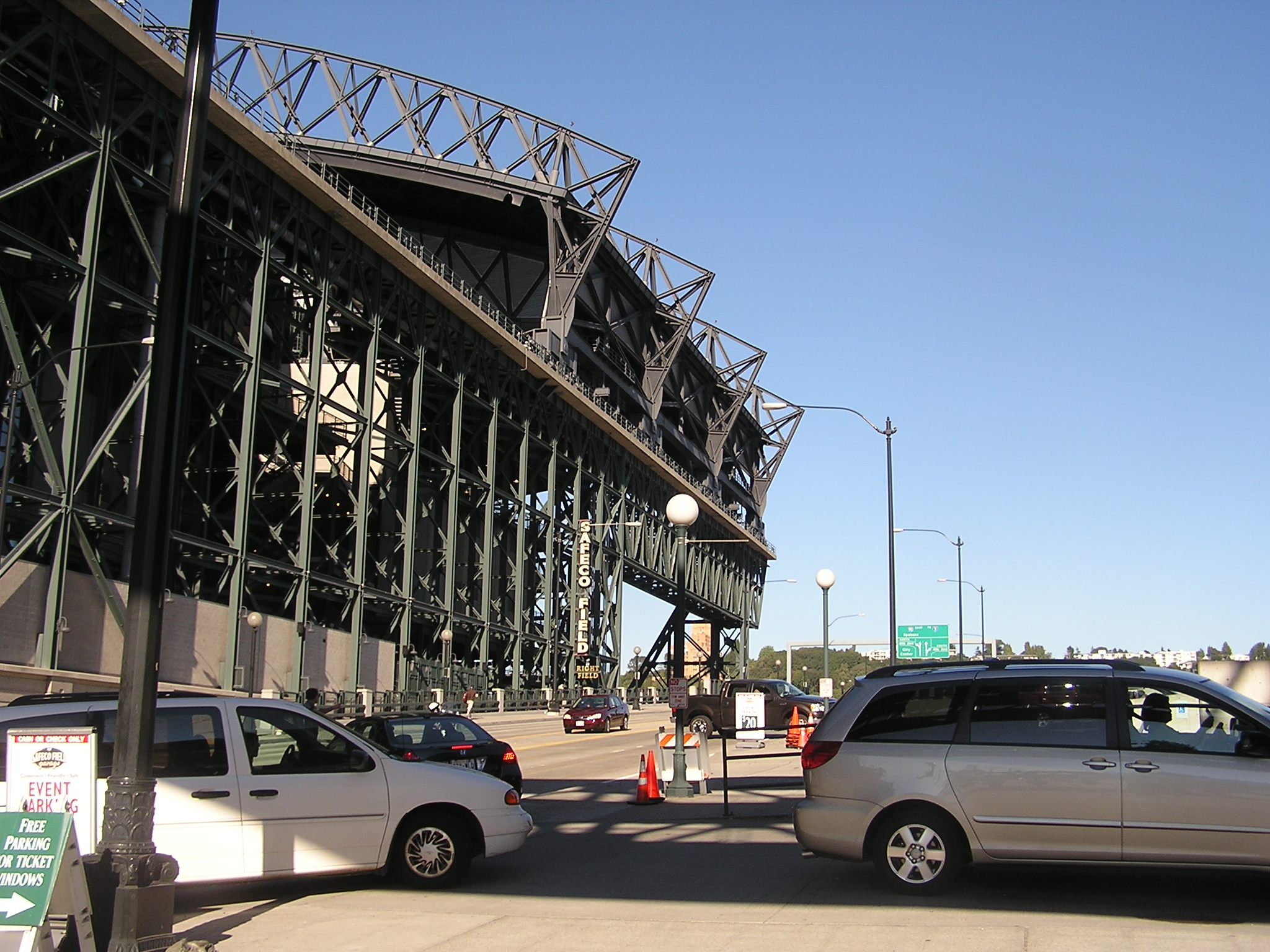 LINKS
The Official site of the Seattle Mariners
To see Seattle from the Sky - The Space Needle
Mount St. Helens National Volcanic Monument
Seattle weather from WEATHER.com
Site Last Updated

© 2000-2012 UNCLE BOB'S BALLPARKS
I AM IN NO WAY AFFILIATED WITH ANY OF THE TEAMS ON THIS PAGE ... THIS
PAGE IS MEANT FOR INFORMATION PURPOSES ONLY.